Tide Detergent Company In Vietnam
Tide laundry detergent is a famous product line in the laundry product group. Tide entered Vietnam very early and won 1st place. Thanks to the intelligent Tide washing powder advertising campaign, Tide has won the hearts of consumers. Let's find out which company's tide washing powder. Why is it so popular with consumers in Vietnam? Tide Detergent Company In Vietnam
Which Company's Tide Detergent?
Tide Detergent is a brand of detergent owned by P&G. This is a multinational company with a wide range of FMCG products supplied to the market. Tide is one of the best-selling and most loved brands in America. After that, Tide was a foreign brand that entered the Vietnamese market in 1996. Officially joined the race with big brands like OMO. Tide's presence has helped many mothers from doing laundry. Tide has constantly improved to launch new products. This product helps wash the clothes clean, pure white, and calm.
Tide Powder Laundry Detergents
Tide Detergent Company produces 3 main outstanding product groups. Features Tide brand washing powder granules are fine and white with no characteristic odor. The products are appreciated by customers for their quality and reasonable prices, which are suitable for the income of Vietnamese people. 
Tide Plus Downy

Powder Laundry Detergent

The special feature dissolves 5 times faster than normal laundry detergent. Tide detergent makes washing easier and clothes whiter. Tide Plus Downy penetrates every fiber of the fabric to bring confidence to you throughout the day. Effective stain removal formula. Avoid the phenomenon of clothes washing with residue. Ability to wash quickly, dissolve stains, and help white clothes brighter. The downy scent is gentle, penetrating deeply into each fabric.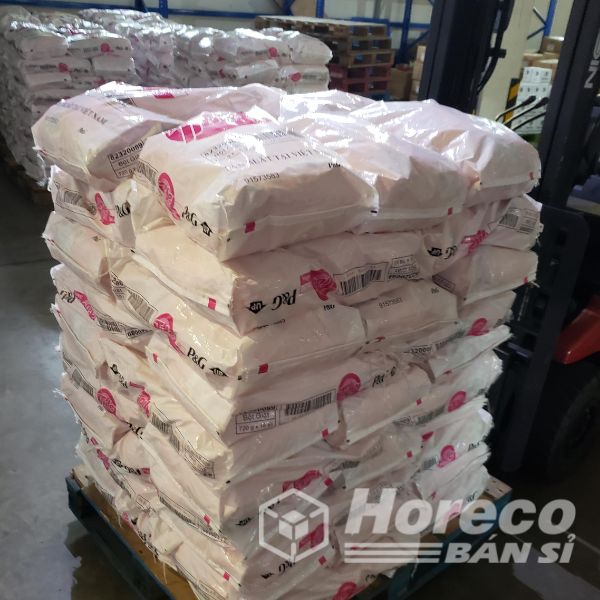 White Tide

Powder Laundry Detergent

Breakthrough White Tide Detergent uses a superior formula that dissolves 5 times faster than regular laundry detergent. Breakthrough White Tide Detergent makes cleaning easier and simpler. Breakthrough white Tide with a breakthrough formula for fast washability. The product helps to remove all stains, making clothes white and bright for a long time.
Tide Professional Powder Laundry Detergent
Professional Tide washing powder contains particles of compact size, easy to penetrate deep into each slot of clothes. Great effect, make your outfit always like new. Professional Tide washing powder is produced on advanced technology lines. The products are not only modern, convenient, and safe for the body. Products use natural ingredients and no harmful substances. does not corrode clothes or cause skin irritation, suitable for all customers.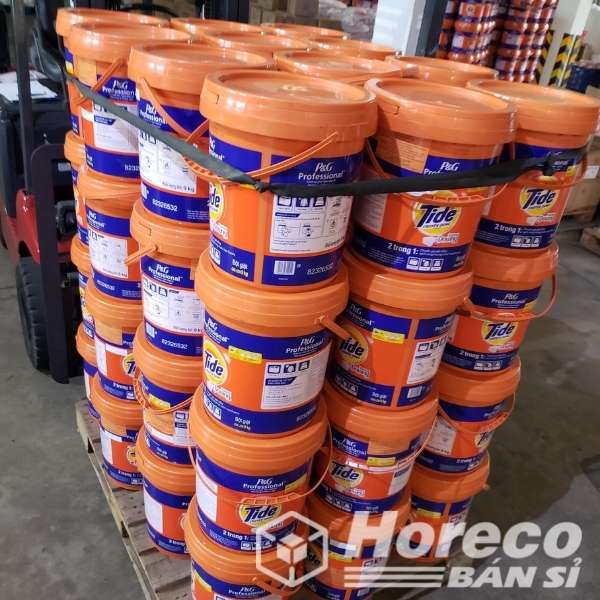 Tide Detergent Price
How much Tide washing powder costs, will probably be the question that many customers are interested in when referring to or choosing to buy products. Overall, Tide's price is very competitive compared to other brands of Tide Detergent Company In Vietnam. Do we receive the most questions about how much the tide washing powder is 6kg? Here we would like to answer the prices of outstanding Tide washing powders as follows:
Shelf Life Tide Detergent
To see the expiration date of tide washing powder, we can see the information on the packaging announced by the manufacturer. Before buying a product, pay attention to the production date. The product should not be used after the expiration date..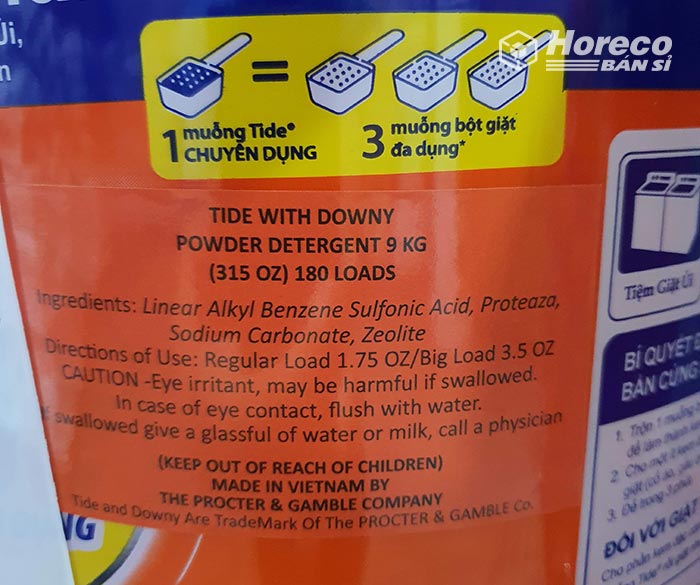 Should I Buy Tide Detergent?
Tide Detergent Ingredients
Ingredients: Linear alkyl benzene sulfonic acid, alcohol ethoxylate, protease, sodium carbonate, zeolite… Tide laundry detergent with a breakthrough formula has the ability to quickly clean, and dispel all stains, helping clothes stay white and bright. Full and long-lasting fragrance.
Tide Detergent Highlights
This product has outstanding advantages that will surely make you very satisfied when using it. Tide's ability to dissolve detergent is the biggest strength of this product line. Clothes are not only white but also smell better. Its price is also very reasonable. It is a good quality but the price is affordable for the majority of families. However, the product still has some limitations to overcome. Prolonged exposure to soap will make your hands more sensitive. Besides, the product has a lot of foam, so cleaning the soap will be more difficult and time-consuming. For families with infants, consider choosing detergents that are more suitable for their sensitive skin instead of sharing Tide with the family. The incubation time of the product is about 20 minutes, which is 10-15 minutes more than other types.
Tide Detergent Usage Instructions
Machine wash
Step 1: Dissolve 2 tablespoons of breakthrough White Tide detergent into the machine (25 L – 30 L of water).
Step 2: Put clothes in and soak white clothes and colored clothes separately.
Step 3: Let the machine run
Step 4: Rinse thoroughly and wring the clothes dry
Handwash
Step 1: Wash clothes first with water.
Step 2: Put 1 tablespoon of Tide White Breakthrough Detergent into the basin (4 L – 5 L). Dissolve the detergent completely in the water.
Step 3: Put the clothes in the basin and soak them for at least 30 minutes. Soak white and colored clothes separately.
Step 4: Gently rub the dirty areas.
Step 5: Rinse thoroughly and wring the clothes dry.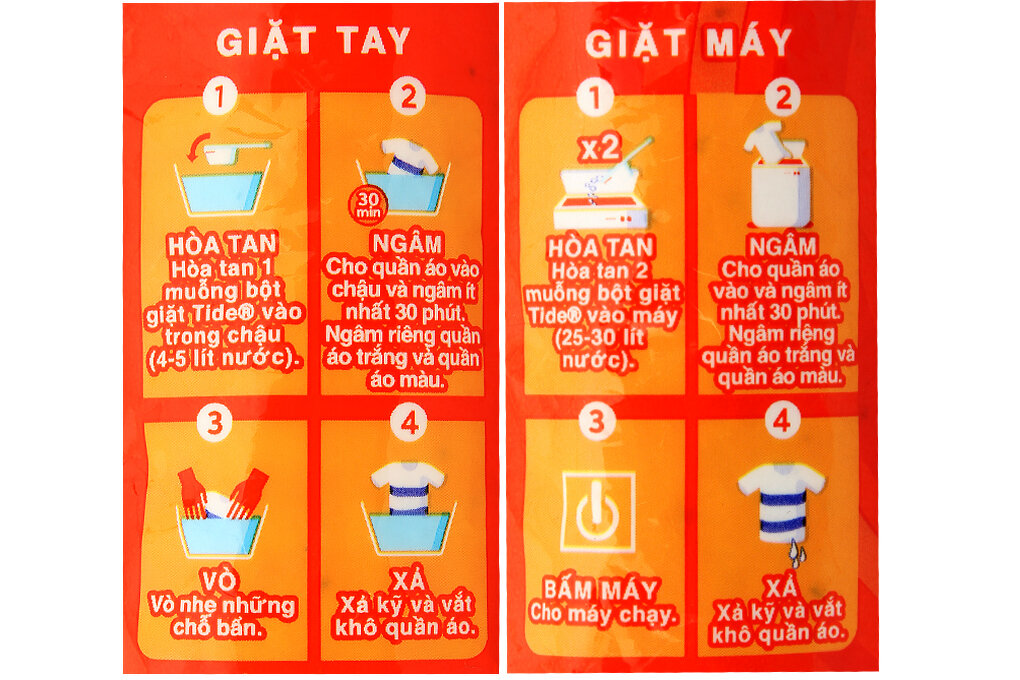 Buy Tide Detergent at Wholesale Price
Are you looking for a wholesale price of Tide laundry detergent? We specialize in distributing Tide Detergent Company In Vietnam at wholesale prices.
With more than 30 years of experience in wholesale Tide laundry detergent at wholesale prices. We have an abundant source of Tide detergent powder, quality, genuine and wholesale price. We supply bulk Tide washing powder to wholesalers and export companies. Contact to buy wholesale.
Epilogue
Above are the tide washing powder information and the answer of which company's tide washing powder Horeco shares with consumers. Before buying, you need to learn about the product carefully and buy accordingly.