Trung Nguyen Coffee carries the national symbol of the coffee industry. Products have reached out to the world and are present in over 60 countries around the globe. The success of Cafe Trung Nguyen is the pride of the Vietnamese people. Trung Nguyen has built a brand with a national identity for each product. Since then, the brand has occupied the No. 1 position in the Vietnamese coffee market, beating other brands. Horeco is proud to be the official distributor of Trung Nguyen coffee in Ho Chi Minh City today.
Trung Nguyen Coffee Market Share
According to the World Cafe Organization, Vietnam is the second largest coffee producer and exporter, after Brazil. Which, we are at the forefront of Robusta beans – bitter and caffeine-rich coffee; ranked 11th with Arabica beans – aromatic coffee, slightly acrid, with less caffeine. Trung Nguyen and more than a dozen other big players are competing fiercely in both roasting and coffee markets. Since then, building a Vietnamese coffee culture on the path of sustainable development. The market of coffee chains and roasted coffee Coffee roasters are accounting for nearly two-thirds of coffee consumption in Vietnam. Trung Nguyen has almost a monopoly on roasted coffee with nearly 80% market share (according to Euromonitor in 2012). Recently, the market has appeared many names with fierce competition. Trung Nguyen in this field, although the image position and price are not lower, so it is still in a lower position compared to other brands.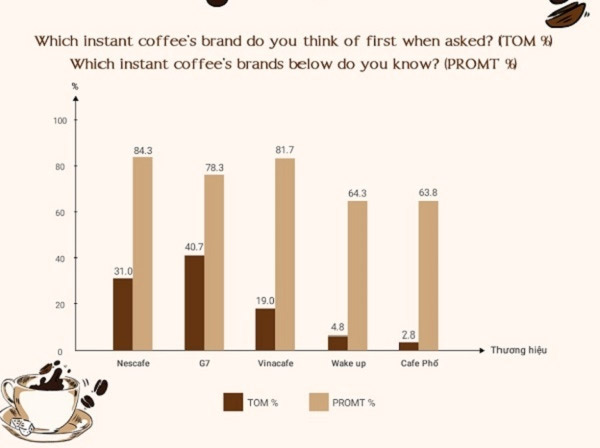 Vietnam's instant coffee market with 3 brands dominating the market. These include – Nestlé's Nescafe, Trung Nguyen's G7, and Vinacafé Bien Hoa's Vinacafe – with a combined 75% market share. Vinacafe and G7 are two Vietnamese brands, while Nescafe is a Swiss brand. In contrast to the coffee chain market, Trung Nguyen's instant coffee brand has a great advantage over two competitors, when the majority – 27.2% of survey respondents said that they would like to drink G7 in the future.
Trung Nguyen Coffee Product Line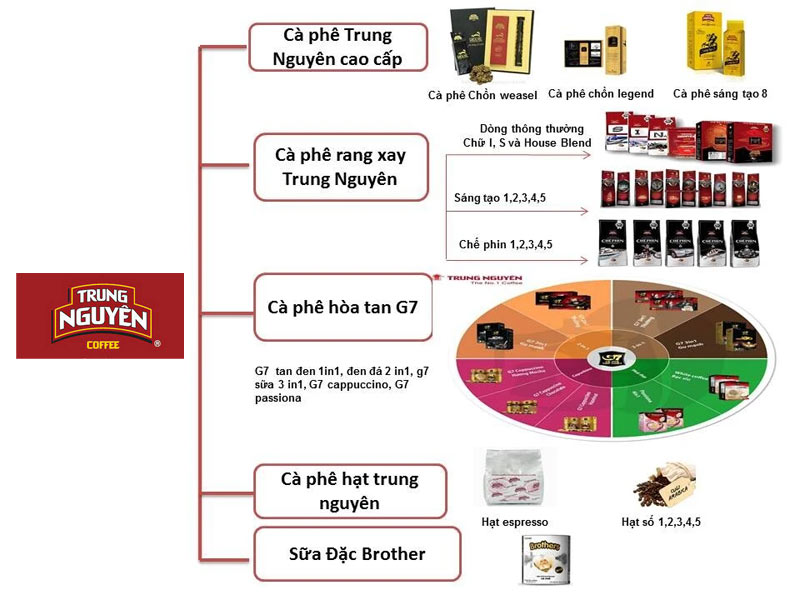 1. Premium Trung Nguyen Coffee
Weasel Coffee, Legendee Weasel Coffee and Creative Coffee 8.
2. Roasted Coffee
Roasted and ground coffee includes Blended (I, S, Brown, Premium Blend, Gourmet Blend, House Blend), Filtered (1,2,3,4,5), Creative (1,2, 3,4,5,8), Espresso, Ground Nuts
Product Group Mixed
Mixture I – Aspiration
Mixed S – Conquer
Mixture N – LIFE
Mixture E
Premium Blend
Gourmet Blend
House Blend
Trung Nguyen Che Phin Coffee 1, 2, 3, 4, 5
Trung Nguyen Creative Coffee 1, 2, 3, 4, 5, 8
3. Pure coffee beans
Coffee beans are selected from the best coffee beans. Coffee beans have a rich flavor. The product is suitable for coffee shops and families.
Arabica bean coffee
Coffee beans Culi Robusta
4. G7 Instant Coffee
Includes G7 3in1, 2in1 (Iced Black), Black Instant, X2 Strong (2in1 and 3in1), Cappuccino, Passiona and White Coffee – Latte
G7 3in1

G7 2in1 (Iced Black)

G7 Hòa Tan Đen (No suggar)

G7 X2 Strong

G7 Cappuccino

G7 Passiona

G7 White Coffee
5. Fresh coffee
Traditional Fresh Coffee with strong flavor, popular
Stylish Fresh Coffee has a smooth, characteristic aroma.
6. Sugary thick cream
With sweet, seductive milk fat aroma and characteristic flavor blended with coffee to create the most delicious Vietnamese milk coffee. In addition, Brothers Sugar Condensed Cream also adds Vitamins B1, B6 which is very good for health.
Official Trung Nguyen Coffee Distributor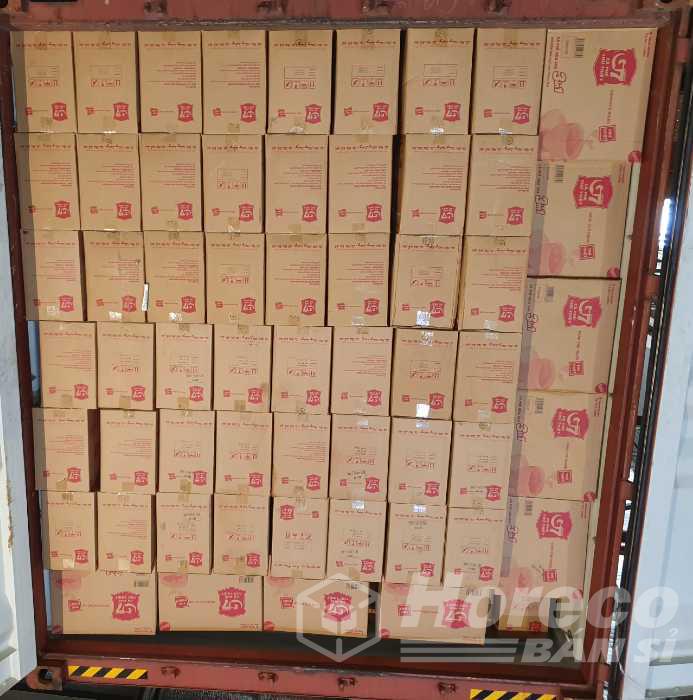 If you are looking for a supplier of Trung Nguyen coffee at wholesale prices, please contact Horeco immediately. We are a Trung Nguyen distributor in Ho Chi Minh City specializing in distributing wholesale coffee. With over 30 years of experience in the consumer goods industry, Horeco is confident in providing genuine Trung Nguyen coffee at wholesale prices, applicable to wholesalers and export companies.