Three Lady Cooks Distributor
Three Lady Cooks is the current favorite product in Vietnam. The dish is always present in every Vietnamese family. Let's find out the distributor of canned food in bulk with Horeco below.
Three Lady Cooks's Company
Three lady cooks sardines is also known as sardines with Three Lady Cooks.
Prestigious brand of Royal Foods. Royal Foods Co., Ltd. is an enterprise with its main base in My Tho Industrial Park. Company with 100% Thai investment capital. Annual sales growth of 10% with the Three Lady Cooks brand of canned fish. This is the number 1 brand in Vietnam, accounting for 80% of the market share, with revenue in 2015 of more than 740 billion VND. The Tien Giang Three Lady Cooks sardines company produces and serves most of the export markets. Royal Foods' strength is the combination of modern machinery technology with the esoteric manual method of choosing and marinating spices. Along with confidence in quality. This brand has quickly become a daily consumer product in every home. Royal Foods achieved food hygiene and safety certifications, HACCP certification. Learn more about Three Lady Cooks boxed fish distributor below.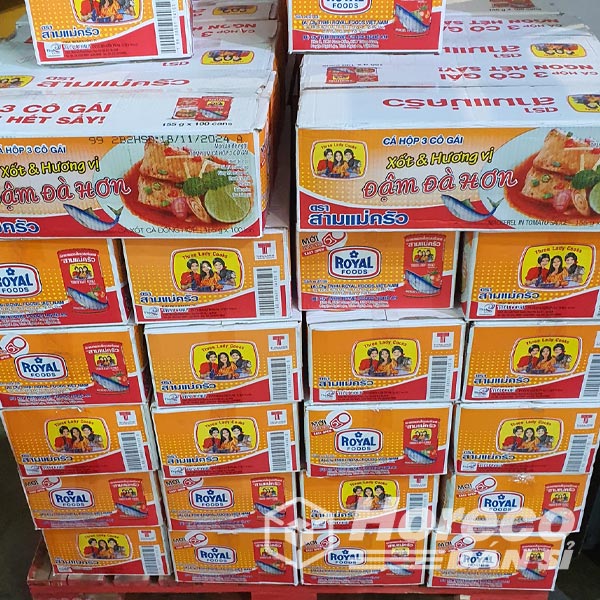 Kinds of Three Lady Cooks
The product is a quality combination of natural standard ingredients such as sardines content up to 60% with rich tomato sauce and other spices. Products that make your family meal seem simple. Three Lady Cooks brings convenience to consumers. Three Lady Cooks Sardines in Tomato Sauce 155gr sealed box can be used to eat or processed into delicious dishes as you like. Three Lady Cooks brings your family delicious and nutritious dishes. The product has a convenient lock that is easy to use.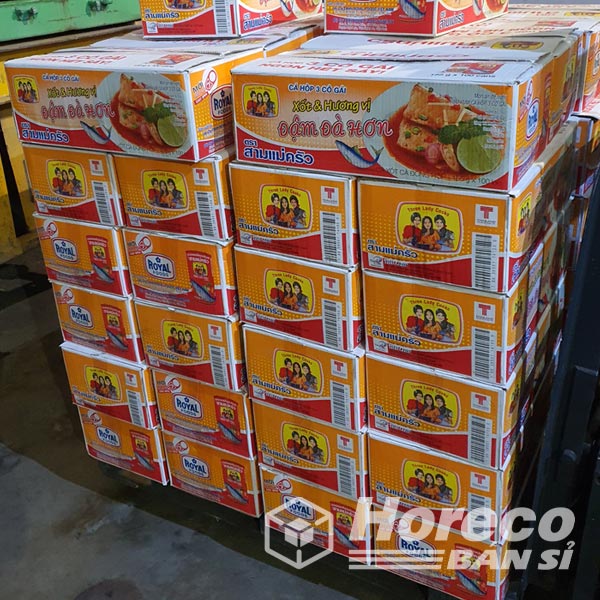 The product contains up to 60% scad, ketchup, soybean oil and other spices… The ingredients of Three Lady Cooks are all recognized by food safety certifications. Three Lady Cooks is a familiar food for every household. Processed by advanced technology with completely natural ingredients: fish sauce, oyster sauce, tomato sauce. … The product is rich in taste, delicious and nutritious. Extremely convenient and can be used immediately.
How many calories are there in Three Lady Cooks?
Each 100g of canned sardines will provide about 250 calories. The main source of calories comes from fat and fiber and other nutrients. The calories from canned sardines are not too high and the carb is also low, so it is suitable for you on a low-carb diet or diet. The high nutritional content in three lady cooks mackerel also plays an important role in the body and does not make you gain weight. Three Lady Cooks Mackerel In Tomato Sauce are now a very familiar food to people. Each 155g box of Three Lady Cooks Mackerel In Tomato Sauce will provide 220 calories for the body with 20g of protein, 10g of fat and 8g of carbs.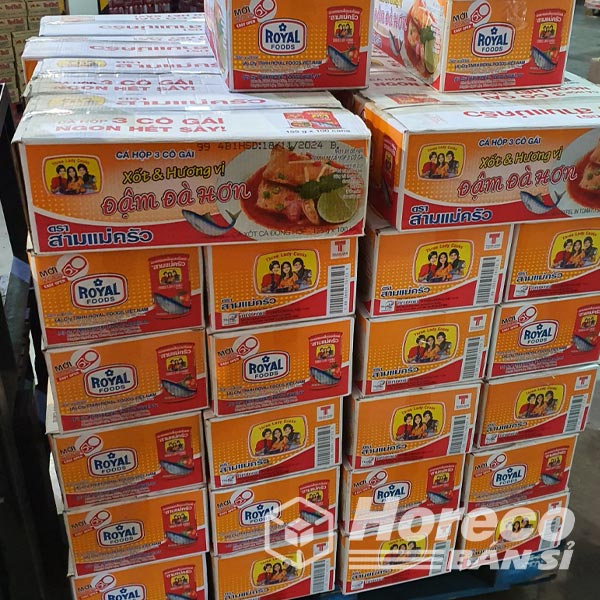 Three Lady Cooks Distributor
Are you looking for a wholesale Three Lady Cooks supplier? We are distributors of three lady cooks mackerel at wholesale price. The source of wholesale goods at Horeco meets the needs of wholesalers and export companies. With 30 years of experience in wholesale Three Lady Cooks on the market. Horeco's  Three Lady Cooks sardines price with an attractive discount for canned food wholesale.
Three Lady Cooks Distributor
Source of genuine Three Lady Cooks sardines wholesale, full papers included and delivery. We are canned food supplier. The more you buy, the higher the discount for canned food in bulk. Contact Horeco today to buy wholesale.